Enterprise Risk Management

Academy – Euronext Group's interactive Enterprise Risk Management course provides a succinct and practical overview of the most topical components of the enterprise risk management framework. Live virtual sessions are structured around the areas of Risk Appetite, Risk Culture, Risk Reporting, Operational Resilience and Risk Assessments. The course also features an exclusive workshop that explores softer skills and qualities that are instrumental for successful Risk teams; an essential yet frequently undervalued element that is crucial for effective enterprise risk management.

The course is packed with practical tips and hints and guides participants towards implementing processes that add value to the workplace. Each session ends with Make A Difference discussion, where attendees share their take-aways that will make a real difference to their organisation. All sessions have been designed to facilitate communication and interaction between participants and the course leader, Elena Pykhova.
As a special bonus, each attendee will receive a copy of the brand-new book authored by Ms. Pykhova entitled: Operational Risk Management in Financial Services: A Practical Guide to Establishing Effective Solutions.
Benefits of Attending
Review how to integrate risk with business strategy
Structure value-added Change and Risks and Opportunities assessments
Find meaningful ways to define risk appetite
Perform risk culture evaluation and create conduct and culture dashboard
Examine 3-step approach to successful report writing
Consider integrating Operational resilience with Risk
Explore softer side: instrumental skills and capabilities of successful risk teams; as well as
Review case studies and engage via live polls
Interact with fellow practitioners, benchmark the maturity of your framework with peers
Develop a plan on how you will make a difference to your workplace following the course
Who Should Attend

This is an essential course for all individuals responsible for implementing risk management practices in their organisations or those interested to stay current and improve their Operational risk solutions, including:
Operational and Enterprise Risk practitioners
Compliance
Governance and Control
Audit
Directors and senior executives
Individuals responsible for implementing risk management practices or interested to learn more about enterprise risk solutions
Organisational delivery details

The course will be held in English from 5 – 6 October 2022, a 2-half-day virtual classroom from 9.00am –to 12.30pm CET. The individual registration fee is € 800 + VAT.
The material will be shared after the course has taken place. You can also download the brochure via this link to learn more about this Enterprise Risk Management course.
Date:
05-10-2022
Time:
9.00am – to 12.30pm CET
Days:
2 days
Location:
Online (via Zoom)
Program
---
9.00     Introduction
Welcome and introductions
What is Enterprise Risk Management
9.15      Enterprise-wide Risk Assessments
Integrating risk assessment with the firm's strategy and business plan
Strategic Risk assessment: approach, stakeholders, outcomes
Top and Emerging risks
Other assessment types: Change, Risks and Opportunities
10.15        Risk Culture
The role of Risk in developing Risk culture
Risk culture assessment: 5 Aspects model
Culture and Conduct: related and intertwined
Effective monitoring: developing Culture and Conduct dashboard
11.15 – 11.30        Break
11.30        Risk Appetite
Focus on more complex to express: Operational / Non-Financial risk
Definitions and approach: 3-step process for developing an effective statement
What does good look like?Attributes and measures of success
Group Study: evaluation of statements expressed by peer firms
12.30      End of day one
9.00      Risk Reporting
Common challenges: lengthy, verbose, not actionable
BCBS239: risk aggregation and risk reporting
Examining practical solutions: 3-step process for successful report writing
Group discussion: exchange of good practices
10.00         Operational Resilience
Integrating Risk and Resilience disciplines
Changing the mindset: developing Business Services Mentality
Role of Risk teams in leading the efforts: what are the common touch points?
Discussion: Operational resilience– successes and challenges
11.00 – 11.15        Break
11.15       Softer side: How to build successful Risk teams
The theory: role of 2nd line Risk in the 3LOD structure
In reality: examining Risk personalities- the Drifter, the Diminisher, the Multiplier
From administration to management
Key skills and capabilities of successful Risk teams
12.15       Wrap-up and Next Steps
Re-cap: essential components of successful Enterprise Risk framework
Discussion: key take-aways, developing individual action plans
12.30      End of course
Teacher
---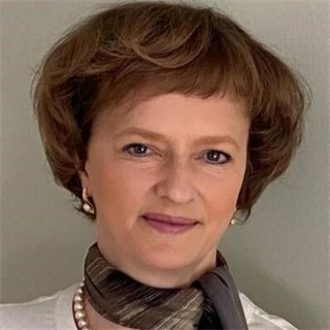 Elena Pykhova
Director & Founder, The OpRisk Company
Elena Pykhova is an operational risk executive specialising in strategy, design and implementation of firm-wide operational risk frameworks, based in London, UK. She is an experienced operational risk trainer, running public and in-house training courses in the UK and internationally for world-leading venues such as the London Stock Exchange Academy. She is a thought leader, influencer and founder of a think tank, Best Practice Operational Risk Forum. She is the Chair of the Operational Risk Expert Panel for the Association of Foreign Banks and the former Director for Education at the Institute of Operational Risk. Passionate about the discipline, she founded her training and consulting practice after 20 years of experience in senior roles at Fortune 500 companies.
---