Investing in Reliability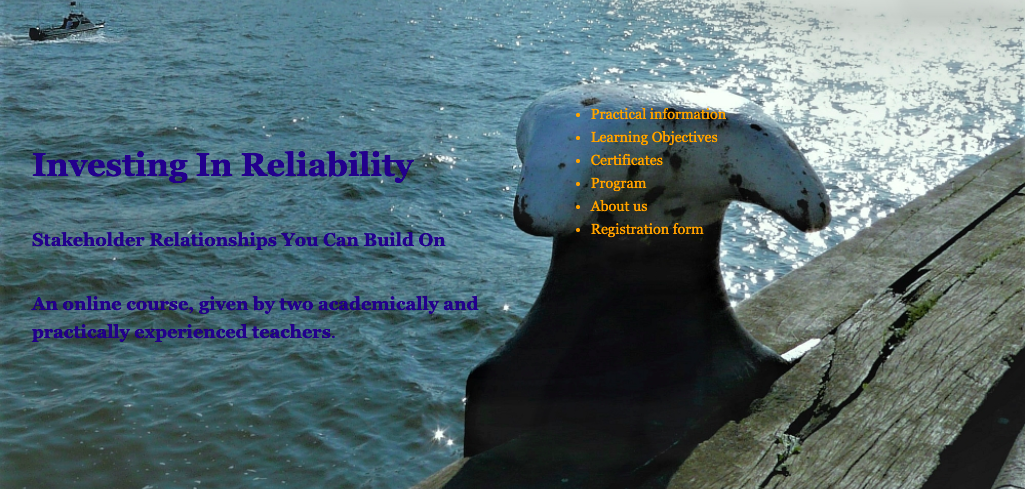 Stakeholder Relationships You Can Build On. Investing in Reliability is an online course, given by two academically and practically experienced teachers for stakeholder managers, project managers, board members, supervisors, governance & integrity professionals, and (external) stakeholders (interest groups, NGO's). For private, public and semi-public sector. Level: Bachelor+ with a recommended experience working with external and internal relations. The minimum and maximum number of participants is 6 – 18. The nature of the course will be interactive, academically sound and practical.
Learning Objectives
After participating in the course, the participant will be able to:
Recognise and describe integrity issues;
Become familiar with the role of stakeholders in the participant's own practice;
Know the value of integrity for his/her stakeholders; and
Contribute to leadership development
Certificates
A Certificate of completion will be provided to all participants. In The Netherlands, CPE credits (PO) for the Dutch Bar Association and various other professional associations (PE/PA) will be provided after passing an exam at academic level (duration approx. 30 minutes).
Costs, start date and registration
The costs for taking part in this online course is € 500,-  or $ 565,- per person.
Investing in Reliability is a three-day course, which will be taking place on February 2, 16 and 23 2022 from 19:00 to 22:00 PM CET (Amsterdam).
If you are interesting in registering for the Investing in Reliability course, you may do so via the following link: https://www.rechtenraat.nl/investing-in-reliability/
Date:
02-02-2022
Time:
19:00 to 22:00 PM CET (Amsterdam)
Days:
3 days
Location:
Online
Program
---
1.         Integrity according to different disciplines;
2.         The value of integrity: interaction and trust;
3.         Integrity according to psychology (positional power);
4.         Enhancing integrity;
5.         Morality in public, private and semi-public organisations;
6.         When integrity is at stake.
1.         Ten lessons to identify types of stakeholders and their stakes;
2.         Stakeholder relationships and ethics (sustainability, etc.);
3.         Interacting with integrity;
4.         Areas of attention for stakeholders and stakeholder managers.
1.         Case: The Shipyard's Stakeholder Manager;
2.         Exercise: identify stakeholders and possible integrity issues;
3.         Plenary: what would you do?
Teacheren
---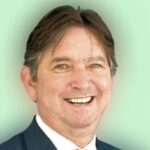 Joop Remmé
Director of Knowdialogue
Dr. Joop Remmé (PhD in Philosophy) has a long career in education and consultancy. In education, he has been active at various MBA schools, both in The Netherlands and internationally, teaching about ethics, strategy and HRM. As a consultant he has mainly been involved in management development and ethics. His publications have been about Corporate Social Responsibility / Ethics and Stakeholder Management.
---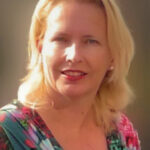 Caroline Raat
Author, researcher, educator, consultant and lawyer
Dr. Caroline Raat (PhD, LLM in Constitutional Law, socio-legal studies and legal theory, MA in public administration, Certificate in Psychology) works as an author, researcher, educator, consultant and lawyer in, among others, integrity and organisational behaviour, and constitutional law. As IRM Researcher for Open Government Partnership, she wrote several reports. Her publications have been about Power, Administrative Law, Freedom of Information, and Integrity Issues. Recently, she finalised the Handbook Ethics and Integrity for Public Sector Lawyers. Caroline Raat is a Registered Lecturer under Dutch Law.
---