Operational Risk Management During and Post COVID-19: Enhancing the Practices

The COVID-19 pandemic acted as a real-life stress test of existing Operational risk frameworks implemented by financial services firms, as organisations deal with challenges related to people, systems, processes and external environment. It called for the re-think of approaches, attitudes and behaviours. This interactive course provides a succinct and practical overview of the key changes in established Operational risk management practices based on the lessons learnt from the crisis. Live virtual sessions are structured around the core framework tools, clearly outlining how each component can be improved.
This essential course is packed with practical tips and hints and features results of multiple industry live polls taken by risk practitioners throughout the pandemic, which provide an invaluable insight on current practices and allow participants to benchmark themselves against other firms. Each session ends with Make A Difference discussion, where attendees share their take-aways that will make a real difference to their organisation.
Benefits of attending
Review how firms responded to COVID-19 and enhanced their Operational risk practices
Learn what successful Risk teams did right from the start
Discuss the importance of situational awareness in risk management
Review how each framework component can be improved post-pandemic
Discuss practical steps for integrating Operational risk and Operational resilience
Examine the importance of 'softer side': what makes risk teams successful; as well as
Engage via live polls, discuss and debate with fellow practitioners
Compare your lessons learned, successes and challenges
Develop a plan on how you will make a difference to your workplace following the course.
Who should attend
This is an essential course for all individuals responsible for implementing risk management practices in their organisations or those interested to stay current and improve their Operational risk solutions, including:
Operational and Enterprise Risk practitioners
Compliance officers
Governance and Control
Audit
Directors and senior executives
Price, start date and registration
The fee for this course is 506.730 Ft (399.000 Ft + 27% VAT).
This course will take place from December 9 – 10 2021. If you would like to either register or receive the brochure for this Operational Risk Management During and Post COVID-19: Enhancing the Practices course, you may do so via the following link: https://www.bib-edu.hu/courses/banking_and_financial_courses/operational_risk_managment_during_and_post_covid
Date:
09-12-2021
Time:
09:00 - 12.30
Days:
2 days
Location:
Live Virtual Classroom
Price
€ 1.390 about (399.000 Ft + 27% VAT)
Program
---
9.00    Introduction
Welcome and introductions
Agility: How priorities and focus of Risk Management changed during COVID-19
3 Things successful Risk teams did right from the start
9.15      Risk Assessments: Focus on Risks and Controls
Lessons learned: risk assessment is a key instrument during the pandemic
Control environment: weakened controls
Understanding Risks and Opportunities: increasing risks and emerging opportunities
Deep dive: Risk velocity and killer risks
Discussion: using risk assessments – successes and challenges
10.15      Scenario Analysis and Operational Risk losses
Scenario Analysis: from traditional to enhanced approach
Impacts of COVID-19 pandemic: Operational risk losses – or not?
Importance of situational awareness
Lessons learned: increasing the effectiveness of core framework tools
11.15 – 11.30     Break
11:30 Key Risk Indicators
What are KRIs and why are they needed
KRI Useful or Useless? Attributes of good indicators
Role and significance of KRIs during and post-pandemic
Lessons learned: developing KRIs that help in decision making
9.00    Operational Resilience
Integrating Risk and Resilience disciplines
Changing the mindset: developing Business Services Mentality
Role of Risk teams in leading the efforts: what are the common touch points?
Discussion: Operational resilience – successes and challenges
10.00     Spotlight: Risk Culture, Conduct and People Risk
Risk culture as a key factor in successful risk management: culture assessment
Conduct risk: definition and monitoring
Focus on employees: the role of Risk teams in managing People risk
Discussion: Risk Culture, Conduct and People risk – successes and challenges
11.00 – 11.15     Break
11.15      Developing Successful Risk teams: from behind-the-desk clerks to Virtual Multipliers
Traditional risk teams: roles and responsibilities
Overcoming the impact of Working From Home (WFH): loss of informal interactions
Developing successful risk teams: key skills and capabilities
Lessons learned: post-pandemic Virtual Multipliers
12.15     Wrap-up and Next Steps
Continued importance of Operational Risk management during and post-pandemic
Re-cap: Changing practices, attitudes and behaviours
Discussion: key take-aways, developing individual action plan
12.30     End of course
Teacher
---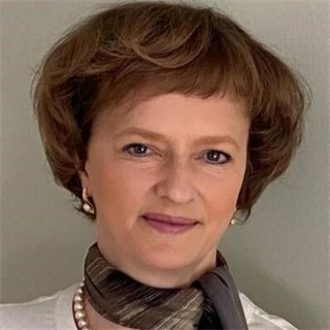 Elena Pykhova
Director & Founder, The OpRisk Company
Elena Pykhova is an operational risk executive specialising in strategy, design and implementation of firm-wide operational risk frameworks, based in London, UK. She is an experienced operational risk trainer, running public and in-house training courses in the UK and internationally for world-leading venues such as the London Stock Exchange Academy. She is a thought leader, influencer and founder of a think tank, Best Practice Operational Risk Forum. She is the Chair of the Operational Risk Expert Panel for the Association of Foreign Banks and the former Director for Education at the Institute of Operational Risk. Passionate about the discipline, she founded her training and consulting practice after 20 years of experience in senior roles at Fortune 500 companies.
---