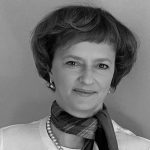 Firms continue to assess whether Working From Home (WFH) is reducing the effectiveness of the 2nd Line Risk Function
---
Working from home has become a normality of the new reality. According to Eurofond1, as a result of the pandemic, almost half of the working population in the European Union was working remotely either fully or partially; a significant increase from the 10% of home-workers pre-COVID-19. During WFH, maintaining a sound control environment and exercising prudent risk management is essential. Risk management department plays a crucial role in achieving this objective. According to the 3 Lines Model2, updated and reissued by the Institute of Internal Auditors in 2020, Risk function assists by providing 'expertise, support, monitoring, and challenge related to the management of risk'. But is WFH, with a somewhat strained informal interactions and communication channels, reducing the effectiveness of the second line function?
A survey conducted by the Best Practice Operational Risk Forum, comprised of risk professionals from over fifty international financial services firms, reflected that 46% of respondents believed that WFH indeed decreased the efficacy, in particular of the Operational risk department. Being in the office permits friendly, less structured interactions which are crucial for relationship building. This, in addition to formal governance meetings, is what made the role successful, and positively influenced the overall risk culture of the organisation.
In contrast, a further 46% of organisations deemed the value of Risk function unchanged while 8% noticed an increase in its effectiveness. For each of these firms, inability to hold a physical meeting between first line business units and Risk professionals prompted the second line function to considerably increase the quality as well as the frequency of their virtual stakeholder interactions.
The results of the poll emphasise the importance of recruiting Risk staff with superior interpersonal skills. This trend was apparent pre-pandemic. Gone are the days of behind-the-desk introverted risk clerks checking spreadsheets. Employers are increasingly looking for influencers and communicators when advertising vacant positions in Risk department. In fact, a report by Deloitte Access Economics3 suggests that by 2030, soft-skill-intensive occupations will account for two thirds of all jobs.
Organisations where Risk departments are continuously enhancing soft skills of their staff and consciously focusing on finding ways to succeed in the WFH environment will emerge stronger post-COVID-19.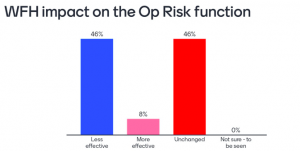 Source: Best Practice Operational Risk Forum
1 https://www.euractiv.com/section/digital/news/pandemic-sends-almost-half-eu-employees-into-remote-working/
2  https://na.theiia.org/about-ia/PublicDocuments/Three-Lines-Model-Updated.pdf
3 https://www2.deloitte.com/au/en/pages/economics/articles/soft-skills-business-success.html
Elena Pykhova