BRT S.A., with its headquarters in Geneva and London, provides a comprehensive range of insourced as well as outsourced high-tech operational solutions to its clients in the investment community across the globe. Moreover, Ger van Nijkerken, the Director of Business Development at BRT was eager to explain just how BRT achieves this.
Ger van Nijkerken: "BRT offers operational and reporting solutions to Wealth Managers, Family Offices, Private Banks, Trust Companies, Hedge Funds and Alternative Asset Managers. Backed up by advanced technology and a dynamic team of professional staff, BRT acts as an extension to its clients' businesses, by enabling them to focus on securely delivering alpha."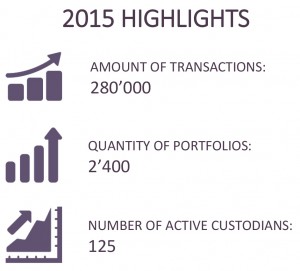 Two sides to the business
At BRT, there are essentially two sides to the business. First of all, BRT provides its clients who are looking to enhance their operational and reporting capabilities, with a modular software solution that saves money and boosts efficiency whilst retaining the operations in-house. Secondly, more than 50 highly-qualified international staff (10 different nationalities) at three locations (two in Geneva and one in London) operate a fully-outsourced BPO service. Unlike other BPO providers, our solutions are not off-shored to India or near-sourced from Romania. The in-house BPO teams use a flexible yet coherent software stack, consisting of Advent APX, Advent Geneva, Allocare and/or their own proprietary solution (ClearVision), all of which seamlessly integrate with their award-winning modules.
Both scenarios benefit from a combined directorship with more than 60 years of experience in finance, investment and IT, a large team of skilled financial analysts, and a custodian & private banking network that stretches across the globe, reaching more than 200 institutions."
Risk & Compliance Platform Europe: To what extent are the processes and systems tailored to the needs of individual clients?
Ger van Nijkerken: "Totally. This is how BRT differentiates itself from other providers. One of the biggest benefits of having a relatively small team is our agility. BRT has developed nimble and effective technological solutions that provide an excellently stable base for providing effective high-tech outsourcing solutions."
Risk & Compliance Platform Europe: How are your solutions integrated with the other solutions deployed by your clients?
Ger van Nijkerken: "At BRT, we work with a wide variety of investment management clients. These range from start-ups wanting complete BPO solutions, through to well-established wealth managers with decades of existing data. In either case, we do our utmost to ensure minimum disruption to our client's workflow. Moreover, this seamless integration must take into account where a client may already have tools, processes or other solutions that they do not wish to change. We focus on our core competencies, and in turn understand where other providers may offer more appropriate inputs. In some cases, we partner with companies (e.g. data providers such as Bloomberg, Telekurs, etc.) to ensure that we can provide the most compatible ecosystem.
One way we manage integration is by keeping our development teams in-house. This structure, combined with the technical expertise of our employees, not only enables us to implement stringent quality control, but to also leverage cross-platform communications and formats, and to transform any size of data sets in the wider world of data management and reporting."
Risk & Compliance Platform Europe: What is the role of your own Research & Development Centre?
Ger van Nijkerken: "Our R&D department has initiated the innovation and digitization of our solutions under our new Fortress label. This initiative, launched by BRT at the beginning of 2014, has resulted initially in the release of the Fortress Client Dashboard: a fully secure wealth management tool that acts as a unique communication companion for the clients of BRT's clients, by providing a 360° portfolio overview to support decision-making and deliver insights to clients anytime, anywhere and on any device. During 2015, we further upgraded this tool by implementing additional functionalities and some technological improvements in order to deliver cutting edge benefits.
In parallel, we have also initiated the deployment of a new solution, the Fortress Management Dashboard: a wealth management solution that enables BRT's clients to focus on relationships, support management and investment decisions, and also monitor clients' profitability, reduce cost-to-serve whilst delivering a unique, modern and engaging experience for wealth managers. This new addition to the Fortress solution line will operate as a complementary extension to the Fortress Client Dashboard."
Risk & Compliance Platform Europe: What are the prospects for BRT in 2016?
Ger van Nijkerken: "We believe that the combination of truly innovative platforms with totally bespoke content, design and delivery is what sets the BRT's solutions and our latest Fortress technologies apart from the rest of the market. We have a unique approach to client partnerships, providing them with a consistent relationship over the lifetime of their solution, thus making an unrivalled effort to produce distinct and personalized solutions that precisely serve their needs, as and when they may change over time."
Contact Details:
BRT S.A.
Switzerland / 4 chemin des Vergers / CH-1208 Geneva
Phone + 41 22 592 54 75
United Kingdom / 20 Upper Grosvenor Street / London W1K 7PB
Phone + 44 207 518 8815
www.brt.ch
Ger van Nijkerken
ger@brt.ch
Mobile phone: +31 6533 9 6533